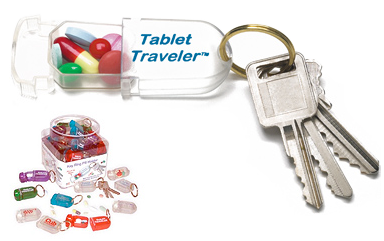 The Tablet Traveler™ can be printed in a variety of colors and can be printed on both sides allowing for a substantial printable area. Key rings or key chains can be added at a nominal charge. Average custom print order is shipped in 10 days. Minimum order quantities start at 400 pieces.
Retail Carded
Promotional Custom Print
5 assorted colors
To Order Contact us for pricing and details at:
BCB Innovations, Inc.
6508 Creek Drive
Edina, MN 55439
Phone: (952) 941-5253
Fax: (952) 941-1240
Toll-Free: (888) 282-2505
Email:
info@bcbinnovations.com